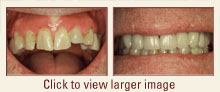 Across the country, teeth whitening, porcelain veneers, and many other cosmetic dentistry procedures are becoming more and more popular. No longer the exclusive domain of movie stars and politicians, cosmetic dentistry treatments are now more accessible to the general public.
This is wonderful news because, in fact, you deserve the bright, beautiful smile Please be advised, however, that the American Dental Association does not recognize any specialty in cosmetic dentistry. All dentists are general dentists with varying skill and experience with cosmetic dentistry procedures. It is important, therefore, to choose your dentist well.
Dr. Latham has 25 years of experience providing quality cosmetic dentistry to the entire Sonoma County. Porcelain veneers and even teeth whitening require knowledge, skill, and artistry. With Gary Latham, D.D.S., you can be confident that you are receiving practiced craftsmanship for all your cosmetic dentistry procedures. Dr. Latham is a member not only of the Academy of Cosmetic Dentistry, but he is also part of the Seattle Study Group and the Wine Country Study Club, two organizations dedicated to furthering the study of cosmetic dentistry and the skills of participating dentists.
As important as the skill of the cosmetic dentist, however, is the quality of the laboratories that custom produce the porcelain veneers, crowns, and bridges that go into cosmetic dentistry. Dr. Latham is proud to utilize the finest dental laboratories on the west coast.
Teeth Whitening
Our teeth whitening patients are smiling bright with the latest technology from Opalescence®. Over the years, even the most beautiful smiles cannot withstand the staining effects of coffee, tea, caramel colored soft drinks, tobacco, or even just age. Opalescence® teeth whitening treatments offer the perfect solution to such discoloration.
At our practice, teeth whitening procedures are easy and convenient with take-home treatments by Opalescence®. Now you can work teeth whitening into your schedule with no need for an extra office visit. Once our staff develops a teeth whitening mold for your mouth, we supply you with the Opalescence® teeth whitening solution that is just right for you.
Dr. Latham does not do one-step, in-office teeth whitening. If you are interested in in-office bleaching, please ask Dr. Latham why he does not offer the procedure to his patients. .
Porcelain Veneers
Many of our Santa Rosa patients are choosing porcelain veneers to conceal stained, chipped, cracked, misshapen, or misaligned teeth. Porcelain veneers are composed of a thin ceramic material that is so strong it provides a great substitute for traditional crowns. Since porcelain veneers are custom-made to fit perfectly over injured teeth, they look and feel just like your natural teeth.
You will need just a few visits to our Santa Rosa office to complete the porcelain veneers process. Once your porcelain veneers are in place, they can last years with proper care.
Composite (Tooth-Colored) Fillings and Bonding
For our cosmetic dentistry patients whose teeth require rejuvenation due to damage by decay or silver (amalgam) fillings, we offer composite bonding. Dr. Latham believes in conserving the natural tooth structure, and whenever possible, he will use metal-free, tooth-colored material called composite.
Dental bonding composites are made up of acrylic resins that are applied directly to the tooth in layers and then shaped to match the surrounding teeth. A high-intensity light is then used to harden the composite. Dr. Latham is especially skilled at matching the color, shape, and texture of your teeth to create a natural look for a beautiful, uniform smile.
Crowns
Crowns, or caps as they are also known, are designed to completely cover teeth in order to disguise breakage, chips, misalignment, and stains, or to give support to teeth with structural weaknesses. Dr. Latham offers numerous types of crowns at his Santa Rosa cosmetic dentistry practice, from gold crowns to full ceramic (porcelain) crowns that are completely metal free. Which type of crown is best for you will be your decision after an informed discussion with Dr. Latham.
Bridges
Sometimes bridgework is necessary to create a full, fabulous smile when the issue is missing teeth. A dental bridge fills in missing teeth by providing false teeth suspended by crowns that are attached to remaining teeth on either side of the gap. They are then bonded to your teeth to feel and look like your own. Bridges are used to boost both the aesthetic and structural integrity of your smile.
Digital Photography
Dr. Latham uses digital photography at his practice to allow you to view images of what your smile would look like should you opt for a particular cosmetic dentistry procedure. Dr. Latham first takes a digital photograph of your pre-work teeth. He then enhances that photograph according to your choice of cosmetic procedure. The result is a preview to help you decide if those are the results that you want.